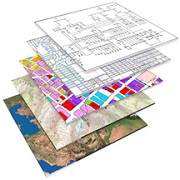 AL GHUNAIM provides quality services in Geographic Information Systems in various fields like data conversion, customization, survey and GIS application development.
Ø Digitization
Digitization, data entry, Optical Character Recognition (OCR) and scanning services in a wide range of formats for generating quality-assured digital data to assist the rapid implementation of the project. Al Ghunaim IT delivers world class quality digital maps by means of Heads up digitization, raster-to-vector conversion, COGO and high precision CAD drawings.
Ø Integration
Integration of a wide range of spatial and non spatial data in a ready to use format.
Ø Customization
At Al Ghunaim IT we know the value of your time. We employee domain specialists and designers to serve as a one-stop shop for the customization of core GIS application in a most user-friendly interface with emphasis on the enterprise. We use the most modern legacy tools as well as open source technologies for interoperability and easy integration with other systems as and when required.
Ø GIS Application Development
We design, develop, and supports innovative, state-of-the-art GIS systems. The team uses latest programming tools, RDBMS and GIS Scripts for developing new GIS Application, Integrating new GIS applications with existing corporate applications, migrating legacy applications and interfacing them with GIS.
Consultancy Services in GIS

GIS Database Design & Development

Engineering Design & Consultancy

3D Modelling

Geospatial Services & Solutions

GIS Data Modeling

GIS Support & Maintenance

GIS enabled Web Services

Vehicle tracking

Urban or Municipal GIS

Utility GIS

Enterprise GIS Solutions

GIS Warehousing

Web mapping applications

Location Based Services

GIS Software Development

Geo Coding

GIS Training